Glass bottles are becoming more and more popular and widely used in life because of their good sealing properties. how glass bottles are made?Let's take a look at the glass bottle manufacture process.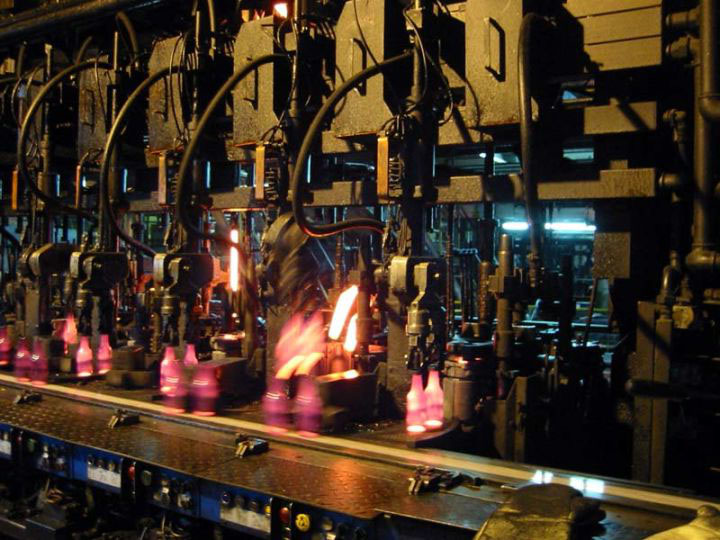 1 – Raw materials for glass bottle manufacturers
Most of the raw materials used to make glass bottles are sand, soda ash and limestone. Broken glass is added to this mixture. Broken glass is broken glass, whether it is scrap from the manufacturing process or from a recycling center, and for every ton of glass recycled, 1,300 pounds of sand, 410 pounds of soda ash, and 380 pounds of limestone are saved. This will save manufacturing costs, save costs and energy, allowing customers to get economical prices on our products.
2 – Melt the glass bottle raw material in the furnace
The raw material and cullet are continuously melted at high temperature, around 1650°C, the furnace operates 24 hours a day, and the raw material mixture forms molten glass for about 24 hours. molten glass through The forehearth, and then at the end of the forehearth, the glass stream is cut into pieces according to the weight, and the temperature is precisely set.

3 – glass mass production
The cut gob falls, and in blow blow molding, the gob is compressed into a blank mold, and compressed air is used to push the gob into place, called a parison, and move into the final mold to blow again to form the framed glass inside of the bottle. Glass bottles with different neck thicknesses (narrow containers) can be manufactured using a blow-blow arrangement.

4 – Annealing during glass bottle manufacturing
Regardless of the process, after the blown glass container is formed, it is usually surface coated,
While they are still hot, to make the bottles and jars more scratch-resistant, this is called a hot-end finish, and the glass bottles are then taken to an annealing furnace where their temperature is brought back to about 815 °C and then lowered gradually drop below 480°C. This will take about 2 hours. This reheating and slow cooling removes the pressure in the vessel. Will enhance the sturdiness of naturally formed glass containers. Otherwise, the glass can easily break.
After the production process. The production of glass bottles is completed, and then the packaging is arranged according to the needs of customers.